SSAM København
SSAM is located in the entertainment centre of Vesterbro. Inspired by the exiting lifestyle in Korea and their diverse food culture, SSAM wishes to offer the local Copenhagen people the opportunity to enjoy modern Korean Food, same way as it is done 8000 km away.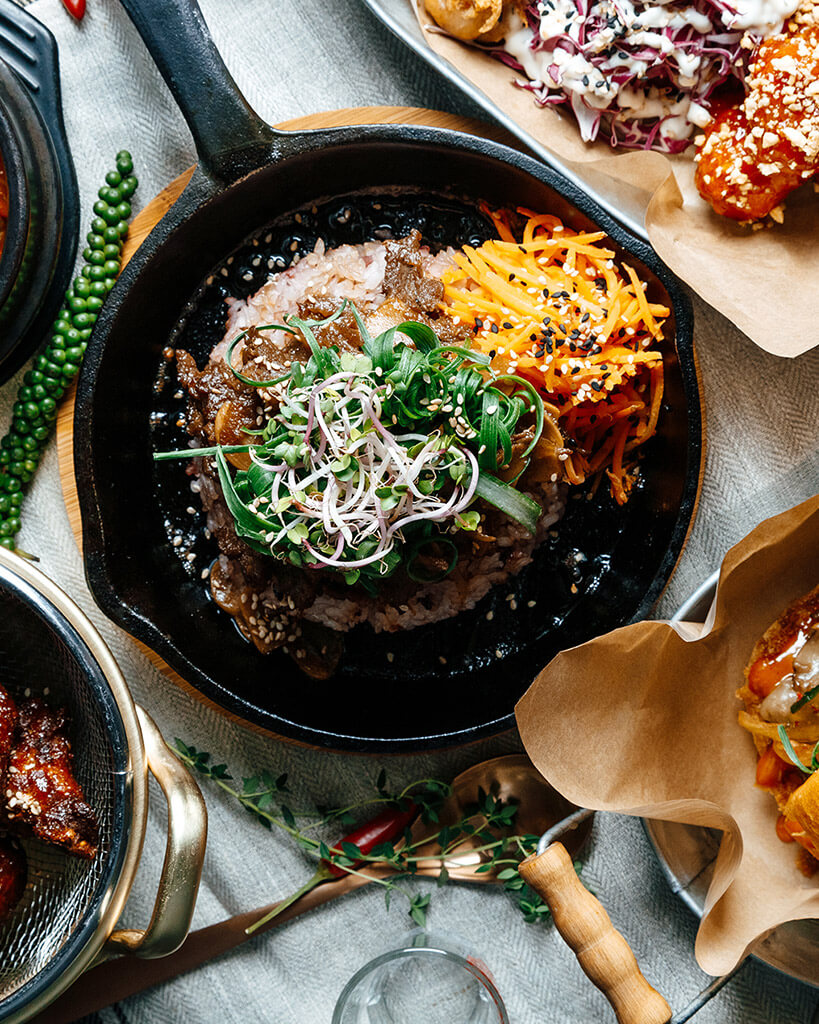 SSAM Food
In South Korea, Anju and in particular korean fried chicken is a necessity. The whole food culture of modern Korea is built around the street food concept. Where you drink whilst eating. Here, beer and deep-fried chicken are first items on the menu, in many restaurants. The Koreans call it Chi-Mek. Chicken and Maekju. We have a number of different variations on our menu, where there definitely will be a flavour for everyone. If you are more into the greens, try one of our bibimbap dishes. Blooming Bibimbab will give you a visual treat along with all the vitamins and fresh vegetables you need for a healthy meal. Are you ready for a completely new and different taste experience, then we make Korean sliders, which are small burgers made with hand-cut bulgogi ribeye beef or spicy chicken. These are definitely a taste you have never tasted before.
BON APPETITE
See Menu
SSAM Drinks
Most of our cocktails are made on Korean Soju. In short, soju is a clear distilled spirit made from rice, like many other drinks in korea. However, it can also be made from wheat and barley. The word Soju means "roasted spirit" which refers to how the alcohol is distilled at high temperature. People often say that the taste is similar to vodka, though with a slightly sweeter and balanced taste.
In addition, we have Korean KPA. Korean Pale Ale. This draft beer is brewed on South Korean Nori tangerines which come from the sunny island of Jeju Island. These are hugely popular in South Korea as they have an amazing sweetness and distinctive taste. If you like special character traits in your beer, then you will definitely like SSAM KPA.
Makegolli is Korean rice wine, which is drunk along the more traditional korean dishes. Young people in South Korea, however, have embraced the trend, drinking various traditional as well as new flavor variants of the Korean Makegolli. Try the Peach or Banana flavours, they are quite thrilling.
See Menu